Welcome to the offical webpage for...
Boy Scout

Troop 186
Milford, Delaware
Two-Bays District
Delmarva Council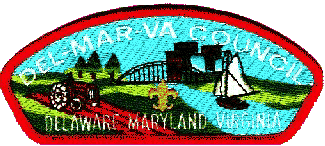 "Leadership is action, not position."

Troop 186 can be found every Wednesday night in the basement of the Avenue United Methodist Church in Milford, Delaware. The troop is chartered by the Avenue United Methodist Men and is led by Senior Patrol Leader Stephan Pfaffenhauser.

---
Boy Scouts of America: An Overview
---
Patrol
Corners
Antelopes | Wolverines
---
Pictures
Resources
1998-1999 Goals
Discipline Policy
Boy Scout Camps
Dates to Remember
E-mail Troop Leaders
Active Scout Requirements
Links to Other Scouting Groups




Questions or comments about this page can be directed to Billy Haines:

whaines@udel.edu
Last updated: 25 January 2000